Haswell ESXi Whitebox Homelab
Difficult to ignore the Intel's latest CPU release. Intel codename Haswell. The K-series parts lack the support for transactional memory extensions and VT-d device virtualization included with standard Haswell CPUs, so obviously I've turned out to other than the K-series. If you are into overclocking, then the 4770K would probably be your choice.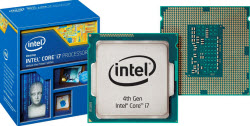 For my home lab builds I always picks consumer parts. Price and WAF is mostly the first criteria. The second criteria was an energy consumption. That's why I picked up the CPU with the S-series which is the energy efficient model. That's why I also picked up a cheap Haswell based board for €90 only. The board supports VT-D, the CPU also.
There are many homelab options, with many different needs and acceptance levels, and other factors which one can consider. Depending of those needs you'll probably do another build completely different way. But I'm showing here what I've done, how it works for me, what's the configuration and the approximative power consumption.
Listing Details